As football fans, the sharp increase in ticket prices for Premier League matches has put a large dent in our pockets. When ticket prices for top flight football are rising more than three times the rate of inflation, the support for non league football is growing. As a researcher into football and fan relationships for the past three years, I've identified the following articles to show how fans can fall back in love with the game while supporting their local teams.
In this
first article
by Michael McCann at
The Telegraph
, we are given reasons why supporting your local team on Non-League Day (during international break weekends) is so important. One of these reasons McCann brings up is ticket prices, as attending a non league match is a "welcomed change" from the astronomical prices being charged at Premier League grounds. At tickets usually round £5, it is easy to bring the whole family along. Often non league clubs offer discounts, or even free entry, to season ticket holders of top flight football clubs to encourage attendance.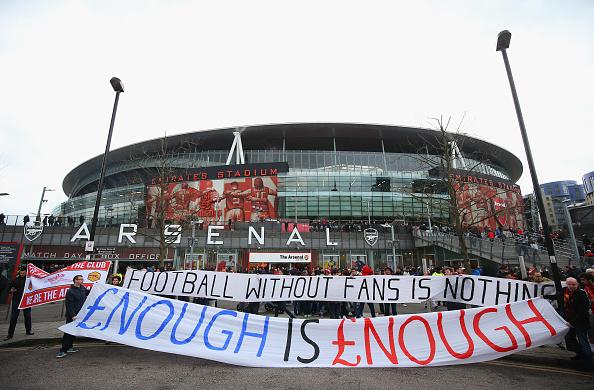 Fans of Arsenal and Liverpool come together to boycott ticket prices. Source: @LFCPhoto)
The
second article
, by
Ian Burrell
at
The Independent
delves further into the problems fans are having with Premier League prices and how they are switching to non league clubs for their football fix instead. Burrell brings up the point of being able to feel a part of the game rather than just another paying customer. There is also talk of the affordability of attending matches and how families can go together and experience football in a family-friendly setting.
Here are three actions I recommend for football fans who are wanting to fall back in love with the game:
Support - Find your local non league team and support them by attending their next home match!
Get Involved - Many non league clubs depend on volunteers in the local community. You can help support your team by also volunteering and becoming part of it.
Enjoy - Non League clubs often offer a very relaxed and enjoyable atmosphere that is family-friendly and affordable, without the stress of fighting crowds.
Overall, supporting your local non league tea is a rewarding experience for you, the club and the community!
My name is Brianna Harvey, and I recently completed an M.Phil (Master of Philosophy) in Football, Media, and Fan Relationships at Liverpool Hope University, and now pursuing a specialization in Social Media Marketing through Northwestern University via Coursera. I have a passion for fan engagement and interested in how clubs are connecting with fans through social media. Feel free to connect with me on Twitter @BriKH.
Check back for future posts about:
Financial Fair Play - Answering questions on: what is it, what does it mean to the modern game, and what affect will it have on fans?
Grassroots Success Stories - Leicester City's Jamie Vardy recently broke an amazing record after coming up through the ranks of grassroots football. Here I will highlight many of the other successes that have come from grassroots football.
Non League Fans - A focus on the regulars of non league football and their own insights as to why they choose to attend community football.
Twenty is Plenty - An update on the Twenty is Plenty campaign against away ticket prices, what it is and how you can lend your support.
New Year Prediction - A look into the second half of the football season, the January transfer window and predictions into where football will end up at the end of the 2015/26 season.